Malleable, ductile and an excellent conductor of heat and electricity, copper has been used by mankind for thousands of years. Another very important characteristic of copper is that it can be recycled over and over, as it is infinitely recyclable, without ever losing its essential physical properties – and we do that!
Fire-Refined High Conductivity COPPER ROD PROCESS
We use state-of-the-art technology to refine all types of reclaimed copper and to produce Cu-FRHC (fire-refined, high-conductivity) products that are 99.9 percent pure and meet ASTM B-49 standards.
At full production capacity, we have the ability to refine 180 million pounds of copper annually.
SDI LaFarga COPPERWORKS™ uses reclaimed copper to make new copper products. Our Fire-Refined High Conductivity Copper production process has a significantly lower impact on the environment, diminishing our carbon footprint. Our process isn't just environmentally friendly—it's environmentally responsible.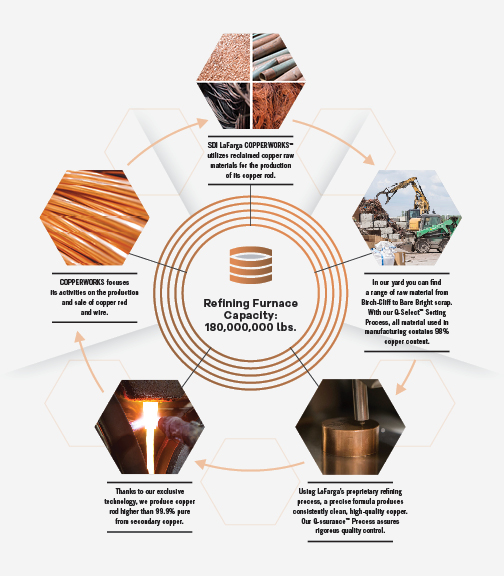 The raw material we use to produce new fire-refined, high-conductivity (FRHC) copper is mostly reclaimed electrical wiring and plumbing in a variety of ISRI grades and forms.
• Bare Bright, ISRI Grade: Barley
• Millberry, ISRI Grade: Barley
• Contact Wire, ISRI Grade: Berry
• New Clean Pipe, ISRI Grade: Candy
• Copper Strips, ISRI Grade: Candy
• Birch-Cliff, ISRI Grade: Birch-Cliff
• Green Copper Wire, ISRI Grade: Berry
• Enameled Copper Wire, ISRI Grade: Birch
• Bands and Copper Strips, ISRI Grade: Candy
• Copper Granules, ISRI Grade: Clove & Cocoa
• Mixed Candy-Berry, ISRI Grade: Candy-Berry
• Old Copper Pipe, ISRI Grade: Cliff
Elemental™ Copper Rod Process
Electrolytic Tough Pitch Copper has become the standard feed material for the production of electrical conductors across the world. In September of 2020 SDI LaFarga Copperworks is adding this process to our list of capabilities in order to better serve our customers by providing copper rod that is suitable for their most demanding applications.
SDI LaFarga's Elemental Rod is produced from virgin copper cathodes and bare bright copper from the cleanest sources, producing products that are 99.9% pure copper and meet ASTM B-49 standards for C11000 or C11040 specifications.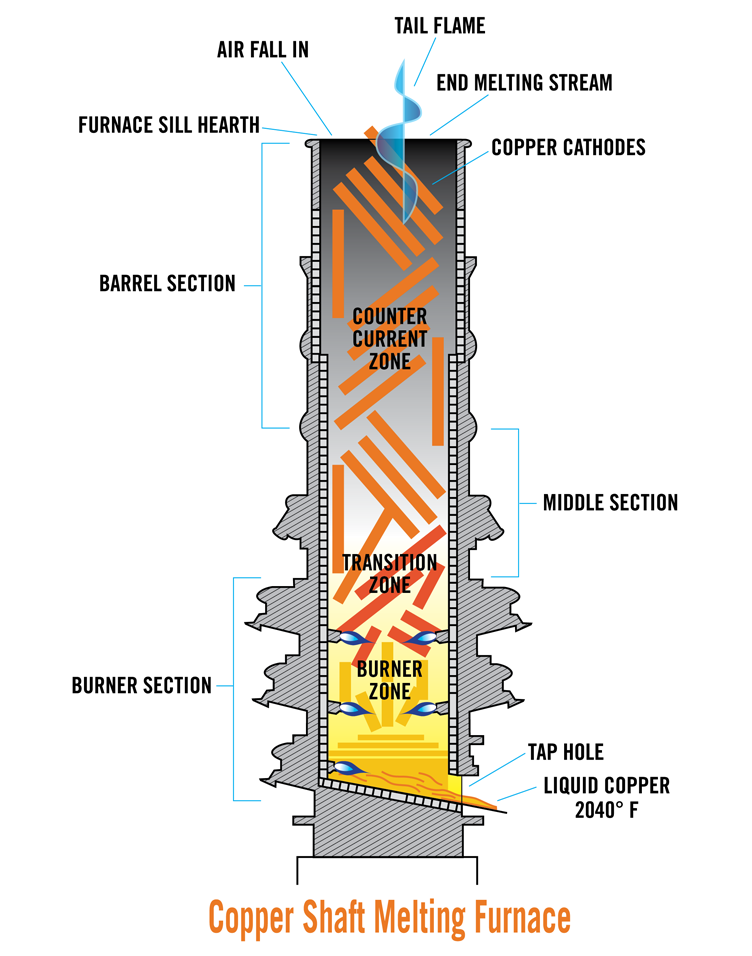 Shaft furnace capacity: 470,000,000 lbs. annual capacity, 250,000,000 lbs. in conjunction with the Refining Furnace.
Q-Select™ Sorting Process
In the production of our Advantage™ product, the COPPERWORKS process to identify copper and remove unwanted elements from the base material is more than sorting, it is a selective process that raises the standard and quality of the material to a 98% copper content. With our Q-Select Sorting Process, we identify and select the incoming copper units so a higher quality level of reclaimed material is used in manufacturing our Advantage™ rod.
COPPERWORKS™ Refining Process
Our unique proprietary copper-refining process is a direct result of our company's culture of innovation. As experts in copper, we use a precise formula to produce consistently clean, high-quality Advantage™ Rod that meets your specific needs.
During our Advantage™ Rod process, metal purity is critical to make certain that our products consistently exceed our customers' expectations for conductivity and quality. Our Q-ssurance process focuses on the chemistry of the molten metal before the casting process begins, assuring that purity is achieved every time in order to exceed these high standards. This is one more way that we ensure that COPPERWORKS Advantage™ Rod meets your exacting demands.
Discover how we can make copper work for you.
Contact our team of experts to discuss your copper rod needs and how we can help you gain efficiencies and meet your goals.